TRACE ADKINS LIVE AT BROWN COUNTY MUSIC CENTER
ON SALE DETAILS FOR NEW SHOW JUST ANNOUNCED
TRACE ADKINS
SOMEWHERE IN AMERICA TOUR
with Special Guest Eric Van Houten

THURSDAY, JUNE 29, 2023
——————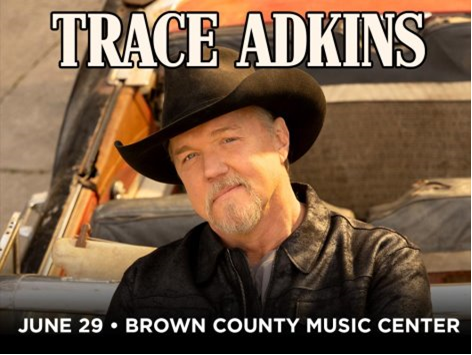 BROWN COUNTY MUSIC CENTER
NASHVILLE, INDIANA
Tickets on sale this Friday, March 31 at 10 a.m.
Nashville, Ind. (March 27, 2023) – Renowned country artist Trace Adkins will bring his Somewhere In America Tour to the Brown County Music Center in Nashville, Ind., on Thursday, June 29, 2023, with special guest Eric Van Houten.

Tickets go on sale this Friday, March 31 at 10 a.m. and will be available at www.browncountymusiccenter.com, www.ticketmaster.com, and at the venue box office (open Wednesdays through Fridays from 10 a.m. to 5 p.m. via outdoor ticketing windows and phone sales at (812) 988-5323). The box office is now cashless, and accepts debit and credit cards including Visa, Mastercard, Discover and American Express. Any box office related inquiries beyond purchasing tickets for an upcoming show should be directed to boxoffice@browncountymusiccenter.com.

In his 25-year career in Country music, Trace Adkins has sold over 11 million albums, charted over 20 singles, earned numerous awards and GRAMMY nominations, and garnered over two billion streams. A Grand Ole Opry member for nearly two decades, the Louisiana native is known for dynamic baritone and fiery, always-memorable live performances, and has expanded his Country career to include film and TV acting. He broke out in 1996 with the debut album, DREAMIN' OUT LOUD, cracking the Top 5 of Billboard's Hot Country Songs chart with "Every Light In the House Is On" and following with the No. 1 smash, "This Ain't (No Thinkin' Thing)."
Since then, Adkins has pioneered a mix of classic Country-minded traditionalism and adventurous, good-natured showmanship, breaking open new avenues in modern Country through fun-filled hits like "Honky Tonk Badonkadonk" and "Hillbilly Bone" (with Blake Shelton). He celebrated the silver anniversary of his album debut in 2021 with THE WAY I WANNA GO, doing exactly what he always has – mixing pure-Country reverence with standout collaborations featuring Blake Shelton, Melissa Etheridge, Snoop Dogg, Stevie Wonder on harmonica and more. Adkins' newest video "Love Walks Through the Rain" (featuring Melissa Etheridge) is available everywhere now.
About the Brown County Music Center: Nestled on the banks of Salt Creek and located less than one mile from the largest state park in Indiana and the Town of Nashville, the Brown County Music Center is a visual and auditory masterpiece. Since its opening in August 2019, the 2,000-seat live performance venue has hosted artists spanning world-class rock, blues, country, pop, jazz, oldies, throwback artists, and more, offering an incredibly intimate experience for each show with the farthest seat from the stage only 106 feet away. Nationally renowned performers have included Vince Gill, Tanya Tucker, The Beach Boys, Jason Bonham, Graham Nash, Old Crow Medicine Show, The Reverend Peyton's Big Damn Band, Ben Folds, Emmylou Harris, Jamey Johnson, America, Pat Benatar and Neil Giraldo, Gladys Knight, Air Supply, YES, Sara Evans and many more. Please check www.browncountymusiccenter.com for the latest show updates and follow us on social media: Facebook | Instagram | Twitter
About Brown County, Ind.: No matter what you're looking for, escape comes naturally in Brown County. Eclectic boutiques and galleries, breathtaking scenery, welcoming accommodations, and endless outdoor adventures await in one of America's original artists' colonies. From art to the great outdoors, there's something for everyone to enjoy, and for most, it's only a short drive away. Unplug from daily life and reconnect with one another as you experience the rustic beauty and artisanal charm of Brown County. Brown County is a place for many diverse tastes and interests. Plan your escape today! You'll be glad you did.