Alternative Metal project breakk.away release mesmerizing new addiction-themed single "I'll See You When the Night Comes"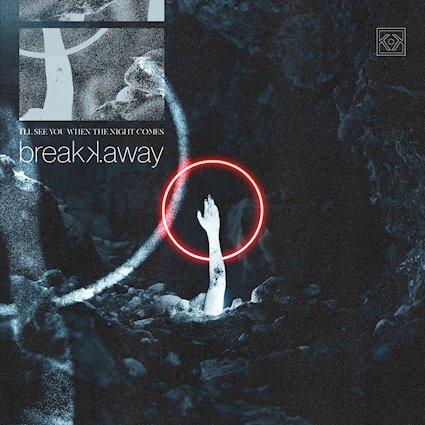 Alternative Metal project breakk.away combine highly cinematic, melodic elements with heavy dynamic shifts on mesmerizing new addiction-themed single "I'll See You When the Night Comes", out now on streaming platforms. The ambitious 5-piece band initially met in school together, and now collaborate internationally, with members residing in Canada, Mexico and France. Their unique sound is colored not only by metal but by storytelling singer songwriters like Lana Del Rey, epic soundtrack music and crushing post-rock.
The new single is a deeply personal release for the band, themed around a universal human challenge. Palpable emotion and lofty atmospheres pervade this epic new release.
"This song is about addiction but in particular, an addiction to negative, depressing thoughts that can spiral in your head in the middle of the night. It is told from the perspective of someone who has suffered and is in pain. Still, because it has become a standard, almost routine-like part of their life, they develop a sort of Stockholm syndrome and fall into a false sense of security or safety, leading to an addiction to the pain. This song is based on a real experience one of us had and is deeply personal." – Case Fadell
"I'll See You When the Night Comes is the first song we made together that made me feel like we worked together as a unit – where each of our distinctive styles added together to become something that none of us had the capacity to achieve on our own" – Jessica Li
"This song represents the roots of our sound; it results from multiple attempts at collaboration, all finally resolved with the first few chords. Once we started writing, it all came together pretty much instantly. It is the darker, more mellow side of breakk.away, and we can't wait to show you the rest" –Jorge Gonzalez Diez Guitierrez
Jim Hughes at Northary Studios created the powerful cover artwork. breakk.away's compelling sound should appeal to fans of artists like Sleep Token, Spiritbox, Evanescence and A Perfect Circle.
Listen on Bandcamp.
Stream on Spotify.
Musician Names/Instruments:
Jessica Li (Vocals) (Canada)
Case Fadell (Guitar) (France)
Jorge Gonzalez Diez Gutierrez (Keys) (Mexico)
Tomomi Kimura (Bass) (Mexico)
Romain Dammann (Guitar) (France)
Producer Name(s): Nathan Smart (Producer and Mixer) Jens Bogren at Fascination Street Studios (Mastering Engineer)
Websites:https://music.breakkaway.com/ISYWTNC
Official Website: https://www.breakkaway.com/
Facebook: https://www.facebook.com/breakk.away
Twitter: https://twitter.com/breakk_away
Instagram: https://www.instagram.com/breakk.away/
Spotify
Bandcamp: https://breakkaway.bandcamp.com
Soundcloud: https://soundcloud.com/breakkaway
Youtube Channel: https://www.youtube.com/channel/UCQaobJxJ0RcegMPHzDlnCaA
Artist Biography:
breakk.away is an uncompromising alternative metalcore unit based out of Michigan that emerged in 2023 with the beautiful, lyric-forward I'll See You When the Night Comes.
breakk.away began operations in 2022 and spent the next year finding their voice, settling on a crew that included Jessica Li (vocals), Jorge Gonzalez Diez Gutierrez (keys), Case Fadell (guitar), Romain Dammann (guitar), and Tomomi Kimura (bass). Drawing inspiration from artists like Spiritbox, Charlie XCX, Northlane, and SOPHIE, the newly minted five-piece issued their first single, I'll See You When the Night Comes, in May 2023.