Delta Deep "East Coast Live" Reviewed
"We wanna see some attitude."
There's no shyness or trepidation as Delta Deep takes the stage with a whole lot of attitude care of powerhouse vocalist Debbi Blackwell-Cook. As she tells the audience what she expects from them, she's also letting you know just what you're gonna get from the band.
Delta Deep takes rock and throws in a blues edge. They take the blues and fill it with soul. Then they take it all, turn up the amps, and blow out the room. Delta Deep is legendary Def Leppard guitarist Phil Collen, Robert DeLeo (Stone Temple Pilots, Army of Anyone) on bass, Forrest Robinson (India Irie, Joe Sample & The Crusaders, TLC) on drums, and lead vocalist Debbi Blackwell-Cook (Tesla, Luther Vandross, Michael Buble). A nice pedigree that looks good in a bio and lives up to the rep onstage.
East Coast Live, their new fourteen track album is scheduled for release January 26, 2018. Recorded live over one night at Daryl's House Club in Pawling NY, one can only imagine the energy flowing through that very cool venue.
Cue the band and start off the night. "Hey, hey mama said the way you move." Loud and big balls brassy, a too short taste of Zep's "Black Dog." So easy to get into the groove but it's only an opener and cuts off so I "can't get my fill." As if to fill the disappointment of the short opening, Delta Deep plows through with the thunderous "Bang The Lid." Fast and catchy, it brings you to a happy place.
"Miss Me" is full-bodied and reminiscent of early Detroit influenced rockin' soul. Having spent time in the room where this was recorded, the walls had to be shaking. With Collen and Blackwell-Clark trading vocals. "Treat Her Like Candy" oozes like southern honey.
Collen takes up the main vocal duties on "Black Coffee" but it's truly an ensemble piece with solid bass and drums, as well as background vocals. Scratchy, raw, hot and tasty. "Shuffle Sweet" repeats the vocal duet aided by a hard driving tempo. The duo complement each other, finding that sweet spot easily.
Diving deep into that familiar blues riff, "Bless These Blues" is rough, raw and soulful. A sweet guitar solo from Collen begs for mercy. "Down In The Delta" gives a nod to their name and their sound. Robinson on drums, holds nothing back as Collen pushes it to 11. It's basically a rockin' swamp of blues and rock.
The album ends with the encore of "Feelit" Big bass from De Leo intros the song as the rhythm section takes a bow. Collen falls in with a little well-deserved show-off time before Blackwell-Cook sets the funk level. After the intro the tune turns more rock and brings in the audience for an end of night sing-a-long.
Recording a live album from one show can have its challenges. On this night at Daryl's House it would seem the band was a highly revved engine. East Coast Live is well paced with good music and real good musicianship. One of those nights you wished you were in the room.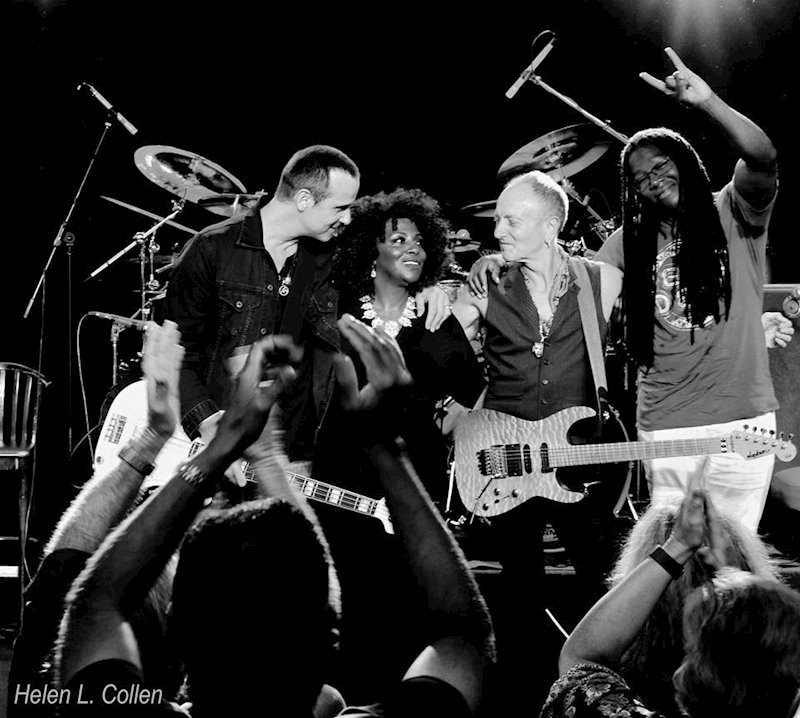 Review by Kath Galasso @KatsTheory
Delta Deep to perform at select dates of G3 tour featuring Joe Satriani, John Petrucci and Phil Collen.
East Coast Live release date January 26, 2018 through Frontiers Records
Delta Deep website
"Bless These Blues" on Spotify
Track Listing: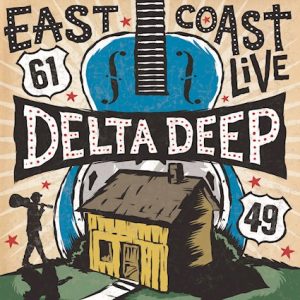 1) Black Dog-opener
2) Bang The Lid
3) Miss Me
4) Treat Her Like Candy
5) Black Coffee
6) Burnt Sally/Rock Me
7) Whiskey
8) Shuffle Sweet
9) Private Number
10) Bless These Blues
11) Mistreated
12) Forrest's Drum Solo
13) Down in the Delta
14) Band Intro/Feelit