Eliot Lewis, A New Year's 'Adventure' at Daryl's House
After a slight drought in my live music attendance toward the end of last year, the first night of the New Year seemed to be the appropriate time to kickstart 2017 on the right track and dropkick the abomination that was 2016 out into oblivion.
Destination: Daryl's House Club in Pawling, NY
Event: Eliot Lewis CD Release Party
Daryl's House Club was opened by Daryl Hall a little over two years ago. It is now the home of Daryl's successful show Live From Daryl's House (LFDH), but when the show isn't filming the club is host to lots of great talent, The venue is everything you could ask for in a small club. It is intimate and comfortable and has a roadhouse feel  but with the upgraded technology expected in larger sized venues.
There is no doubt Daryl Hall put his mark on the place. A few pieces of memorabilia acknowledge his presence, but the room as a live venue is where it shows most. The sound system rocks, the food was definitely worthy of a mention and the staff were more than accommodating. It's the kind of place you wish was in your town.
Eliot Lewis plays keyboards for the Hall & Oates band, is the only member of the Live From Daryl's House band other than Daryl, to be featured on every episode, and was a member of the Average White Band for a decade.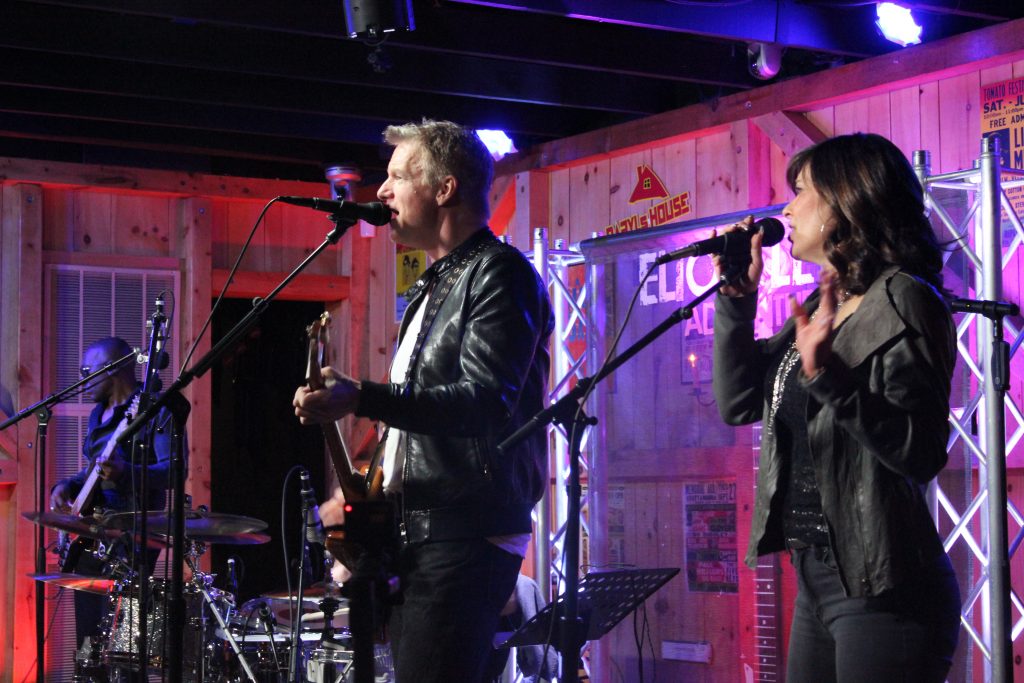 Time to get the party started…
After interviewing Eliot Lewis last week, it seemed like a good idea to see how his new CD, Adventure, sounded up close and personal. Backed by fellow Daryl's House band member Klyde Jones on bass, Jon Rotman on drums, and Deann Michaud on backup vocals, Lewis came out to the opening song on the CD, "We're In It Together," which seemed really appropriate as the night and new year began.
The title song "Adventure," is catchy and a offers a whole lot of truth. Life is meant to be an adventure with both ups and downs. With a voice that is really easy on the ears, Lewis sound is sweet and smooth with a memorable quality.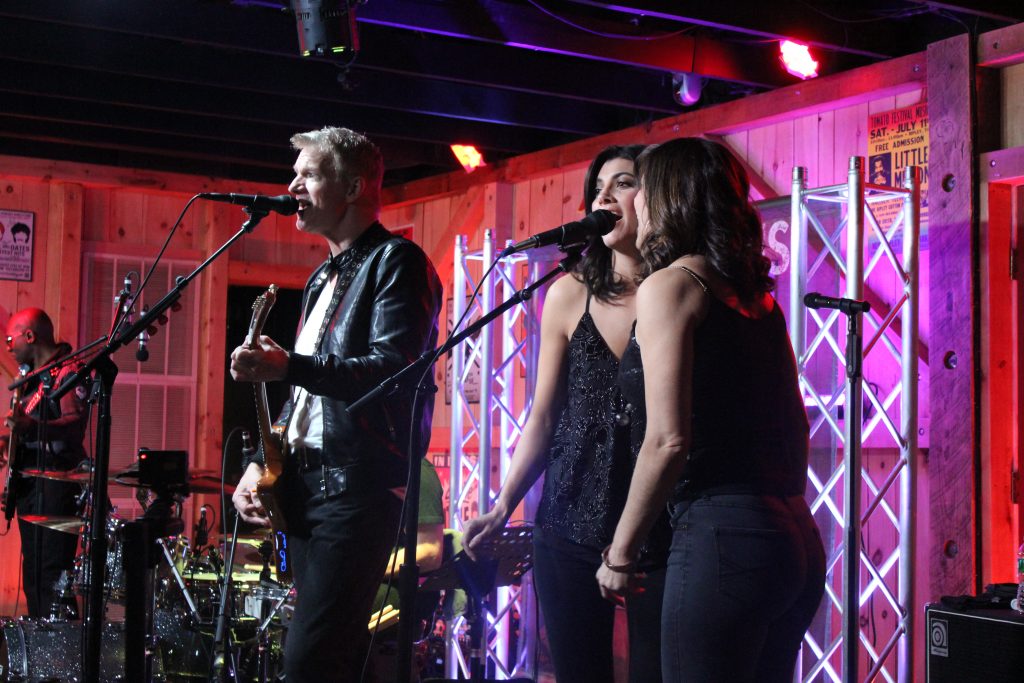 While his live show usually sprinkles in a number of tunes he's played with the artists of LFDH, for the release party Lewis focused on the new album with just a few covers. The first of the night was an exquisite version of Hall & Oates "Sara Smile." Soft and tender with just the right blues feel, right up until a rocking guitar solo took the song to another level.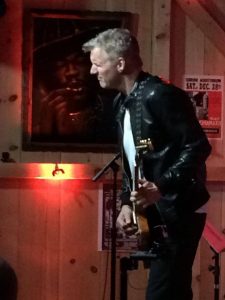 A couple of instrumentals were weaved throughout the night. "Sonic Soldier" and "Helpless" with Lewis working his Epiphone Korina Explorer to its limit. And as Lewis paid homage to Jeff Beck, it almost seemed like the portrait of Jimi Hendrix on the wall was nodding his approval.
"Smile" and "Ready For Love" off the new CD brought backup singer Stephanie Straface to the stage to add an additional tier of vocals.  In our interview there was a question I had forgotten to ask Eliot and he answered it onstage. Though he covers other artists, I was curious as to how the choice of Bad Company's "Ready For Love" on the new CD came about. Lewis explained that his new record company, SRG Records told him he sounded a bit like vintage Bad Company and he might want to cover one of their songs for the CD. His reply was "Hell yes," and so "Ready For Love" made the album.
"Evolution," a lively rocker with a great bass line from Klyde, and "Tattoo," which showed how to enjoy doing your job, were the last two songs played off the new CD. Lewis, drummer Jon Rotman and vocalist Deann Michaud displayed the relaxed chemistry between them while keeping it fun.
Bringing out Ethan Isaac from the band Edisun, they launched into a song from one of Eliot's musical influences. A loud raucous version of Cheap Trick's "Surrender" started the roof shaking and the crowd moving.
With Billy Gibbons another favorite of Eliot Lewis, a ZZ Top song wasn't unexpected. The choice of "La Grange" did not disappoint. As Lewis ended his set, he took his fiery shredding mobile with a stroll around the club. It smoked.
Coming back from an encore, Lewis looked back on an earlier chapter of his career as he ended off the night with another instrumental. "Pick Up The Pieces" from the Average White Band closed the show with the energy up and a little funk to send you out into the night.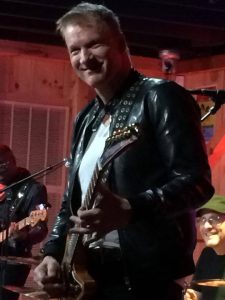 There is no finding fault in the performance. Lewis interacts well with the crowd, is comfortable in his role and is extremely gracious to his audience. If you've seen him play keyboards with Hall & Oates, you need to see him play guitar live. The club is a fine room to play, the sound c/o Pete Moshay was magic, and the band provided a tight and really enjoyable show.
The 2017 vibe is off to a good start.
Review by Kath Galasso @KatsTheory
Eliot Lewis website
Daryl's House Club website
Eliot Lewis Onstage Interview
Check out the Daryl's House Club facebook page for a stream of the show.
Set List:
We're In It Together
Determination
Crusade
Adventure
Sonic Soldier
Flying
Sara Smile
Back To Basics
Soundtrack
Helpless
Smile
Ready For Love
Evolution
Tattoo
Surrender
La Grange
Encore:
Pick Up The Pieces