Gregg Allman, Founding Member of The Allman Brothers Band Dead at 69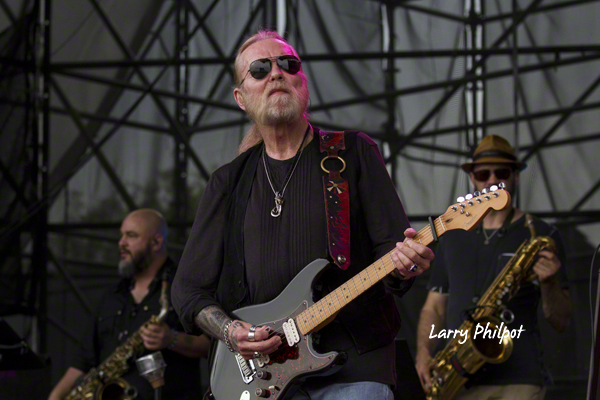 Gregg Allman Loses Health Battle
Sadly, the band is getting back together, but not in the way anyone would want. Gregg Allman has become the latest member of the Allman Brothers Band to leave this world way too soon. Gregg Allman died today at the age of 69, just a little over four months after the death of drummer Butch Trucks, who passed away on January 24, 2017.
Allman's health has been in decline over the past several years, with stints in rehab, lung surgery and a liver transplant among his many health issues. The singer's 2017 tour was cancelled in March and though no formal reason was given for the cancellation, health concerns seemed to be the main factor. Allman was due to release Southern Blood, his first new release since 2011's Low Country Blues. The new album was recorded at the Fame Studios in Muscle Shoals, Alabama. At the time of his death, a release date had not been announced.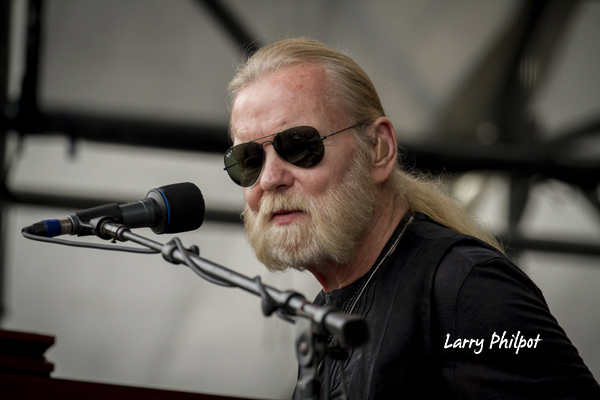 Allman's death was announced by his longtime manager Michael Lehman, "I have lost a dear friend and the world has lost a brilliant pioneer in music. He was a kind and gentle soul with the best laugh I ever heard. His love for his family and bandmates was passionate as was the love he had for his extraordinary fans. Gregg was an incredible partner and an even better friend. We will all miss him."
The Allman Brothers Band formed in Macon, Georgia, in 1969. As the band gained in popularity, they lost two of its founding members, Gregg's brother Duane Allman and bass player Berry Oakley, both to motorcycle accidents.
The Allman Brothers Band officially disbanded in 2014, after a final sold-out residency at The Beacon Theatre in New York City. The band were the recipients of a Grammy Award in 1996 for Best Rock Instrumental Performance and a Grammy Lifetime Achievement Award in 2012. The Allman Brothers Band was inducted into the Rock and Roll Hall of Fame in 1995.
Gregg Allman is survived by his five children: Devon, Elijah Blue, Delilah Island, Michael Sean, and Layla Brooklyn.
The Allman Brothers Band members who have predeceased Gregg Allman include: Duane Allman, Berry Oakley, Butch Trucks, Lamar Williams, Dan Toler, David "Frankie" Toler,  and Allen Woody.
Warren Haynes released a statement on his FB page reading:
RIP Gregg Allman – I am at a loss for words. I was moved by Gregg's voice when I first heard the Allman Brothers Band in 1969. I was nine years old. I had not even picked up a guitar yet but thanks to my to older brothers I had been exposed to a lot of great soul music with the best singers in the world. But this was something different. This music was making a deep emotional connection with me even though it was too complex for me to really understand. Somehow, though, it had this "common man" quality that allowed that music to connect with people on so many different levels without analyzing the ingredients that went into it-soul, blues, rock, country, jazz-all mixed together in a way no one had ever done before. And on top of it all was this beautiful voice that could be soothing, terrifying, mellow, angry, and amazingly natural and soulful all at the same time-and instantly captivating. It drew me in. It drew us all in.
Over the next few years I would begin to play guitar as everyone of my music loving friends became Allman Brothers' freaks. That music spoke to anyone who heard it but in the South it resonated with us. It spoke volumes. It brought a voice to people like myself in the midst of some confusing, ever-changing times. Here was this group of Southern hippies with an integrated band coming out of the Deepest South with equally deep music on the heels of some extremely deep changes. We didn't realize how heavy that was at the time but we sure realized how heavy the music was. Every guitar player in every Southern town was listening to the Live at Fillmore East record and worshipping at the altar of Duane Allman and Dickey Betts. But the icing on the cake was always Gregg's voice. That's what separated the ABB from being a band that only connected with music freaks. Women whom previously had only listened to the radio would tolerate the long jams to get to the parts where Gregg melted their souls with that angelic voice. It turned casual music fans into fanatical fans who were discovering a new multi-dimensional music that a few years prior wasn't even in existence. And it was all due to Gregg's voice-and the songs.
He wrote these amazing songs that were as natural as his voice was. The words and melodies felt so perfectly unpretentious and, when delivered by him, made an emotional connection that only happens when music is genuine and honest. I learned an enormous amount about singing and songwriting from him-most of it before we ever met.
I am truly honored to have been fortunate enough to have written many songs with him and equally honored to have traveled the world with him while making the best music the world has ever known. I will never, ever take that for granted. And on top of all that-he was my dear friend.
My fondest memories will always be of Gregg, myself, and Allen Woody sharing a tour bus together-listening to great music and laughing our asses off mile after mile. Traveling- like life- is so much better when you've got friends to share the experience with. I've lost too many lately and this one is gonna be hard to get past. There is some comfort in knowing that millions of people all over the world feel the same way.
I love you Gregory – WH
"The road indeed goes on forever. So stay calm, eat a peach and carry on…"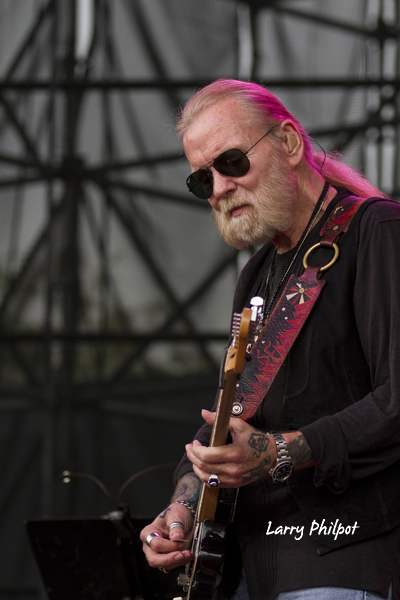 Easy Journey Gregg.
Post by Kath Galasso @KatsTheory
Photos by Larry Philpot