Mike Llerena Releases 'Absence And The Heart' – A Review
Singer-songwriter Mike LLerena takes his musical roots of classic rock, punk and folk for a ride and delivers something that is all of them and none of them, at the same time. Out of Gainesville, FL, where the classic rock sound loomed large, Llerena began playing the local area in 2011. Since that time he has two albums under his belt, with his third release Absence & The Heart, set to drop February 17th.
The five song EP mixes up genres, creating an interesting style. The guitar work is distorted but not overly so, and the vocals don't get lost in the mix.
"On The Way Back Home" opens the album. It begins with an intro of a deceptively low key guitar and Americana sounding intro. However it's barely 30 seconds in before some distorted guitar and punk vocals change the mood entirely. Hold on though, because 30 seconds later it finds a happy balance between the two. The vocals are front and center, the beat is fast and the drums shine throughout.
"Rosanna' is the first single released off Absence & The Heart and the lyrics begin "You're the reason I drink." Must be something about women named Rosanna which causes musicians to write heartache songs about them. It's an easy paced tune and one that feels comfortable. If you're in a bar, crying in your beer or not, "Rosanna" is the kind of song where you'll find yourself and everyone else singing along.
"End Of The Line" brings the tempo of the album up again. Part punk, part anthem, it's a song that has the feel where it could explode at a live performance. LLerena keeps enough of that energy contained on the album to get your feet moving.
"Dear Lonely" is a stripped down ballad with an acoustic guitar and some interesting vocal changes. LLerena starts with a gravelly vocal, then the song adds vocal layers and he blows out the gravel. Though its instrumentation is minimal, at times the changing vocals in "Dear Lonely" have the fullness of a hymn. It makes for an interesting song.
Absence & The Heart ends with a "Lady Rock & Roll," a fast and fun plea to the goddess of rock for a little help in the music life. Hey, it can't hurt, right?
At five songs, it's a quick listen. There are enough style changes to keep it entertainng and Llerena's voice is suited to the songs. Worth a listen.
Review by Kath Galasso @KatsTheory
Mike LLerena website
Track Listing: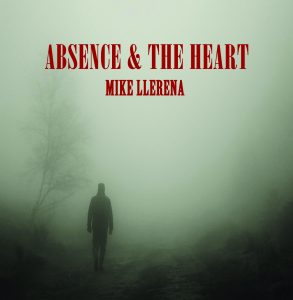 On The Way Back Home
Rosanna
End Of The Line
Dear Lonely
Lady Rock & Roll