Musical innovator Gem FM announces release of 5th album, a Retro hybrid Electronica-meets-Rock affair entitled "Con Fusion"
Musical innovator Gem FM has announced the release of his 5th album a grand Retro hybrid Electronica-meets-Rock affair entitled "Con Fusion", scheduled for release on March 23, 2023. The album features 10 new original tracks that range from ethereal trance to pulsating beats. The new collection further expands project founder James Freeman's esoteric, yes playful and rather joyous musical vision. The restless creative touches on Trance, Rock, Electronic Rock, Progressive Rock, Pop and Dance music.
Gem FM has been described as a musical chameleon and the music as intelligent, sophisticated and engaging. The music of Gem FM reflects influences from different genres resulting in a blend that is often distinctive and unique.
4banger, a cut from the Sonic Boom album, was featured on the Billboard Hot 80 playlist, as well as several others, and continues to receive steady play.
Let's Dance, a recent single release, is gaining international attention and has received positive reviews and numerous playlist placements.
Stream "Let's Dance" on Spotify.
Artwork for the album was designed and created by Richard Capwell, a graphic artist, author, and dog lover who resides out in the high desert of Southern California.
Richard created the album cover and individual images for each track on the album. Each track image is part of a puzzle piece that combines with the others to form a complete image. Richard has been working a lot lately with the Heavy Metal Bunnies.

About new track "Glide On", Freeman says it's "A tune that seemed to write itself. To me it represents the understanding that we are universal beings that temporarily inhabit biological entities like the ones here on Earth. At first, we look up then we learn to look down. Then we glide on by."
On "Bake the Cake" he adds "The thought here is to figure out what it is that you're really supposed to be doing and get the job done. Do your own thing and polish it until people notice. And you can dance."

Dreamy, multi-layered, rhythmic and downright danceable, "Con Fusion" is a release electronic music fans will not want to miss.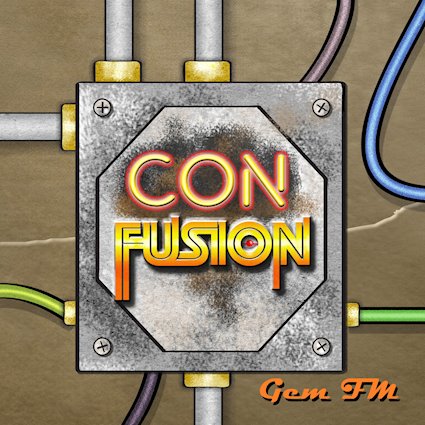 Tracklist: 1. Epiphanous Dream 2. Hit The Door 3. Glide On By 4. Diggy
Diggy Boop Boop 5. Big Daddy's Gonna Come Today 6. Double Dribble 7. RUda1 8. Bake The Cake 9. Marion Morning 10. Do You Love Me?
Websites:
Official Website: www.gem-fm.com
Instagram: https://www.instagram.com/gemfmsonics/
Spotify
Bandcamp: https://gemfm.bandcamp.com
Artist Biography:
Gem FM is conceived as a flexible musical entity that may incorporate solo and/or collaborative expression at any particular time.
James Freeman (a.k.a. Jim, Jimbo, J. Michael) is the instigator of Gem FM. From high school marching band to rock, blues, and country cover bands to prog rock to audio engineering and live sound mixing, music has been a mainstay of Jim's life.
The Gem FM goal is freedom of artistic expression that modern technology now enables more than ever before.
To make music and express creativity for the joy of it.
To raise a voice in hopes that it may reach the ear of a kindred spirit and perhaps bring a smile.
And to dance, live, and love.