New Yank Yorkies "Bring Back The Love"
Musical history has shown us some of the most talented artists are the ones whose names you only know if you are a devout reader of album liner notes. As Skynyrd sang "Muscle Shoals has got the Swampers" and LA had The Wrecking Crew, it's always a treat when the guys in the background step out from the shadows and put out some music of their own.
So is the story of The New Yank Yorkies whose individual pedigrees are more than impressive. Formed by a group of session musicians, producers, and songwriters, the members of this Canadian roots/rock band have both done studio recording and touring on the world stage.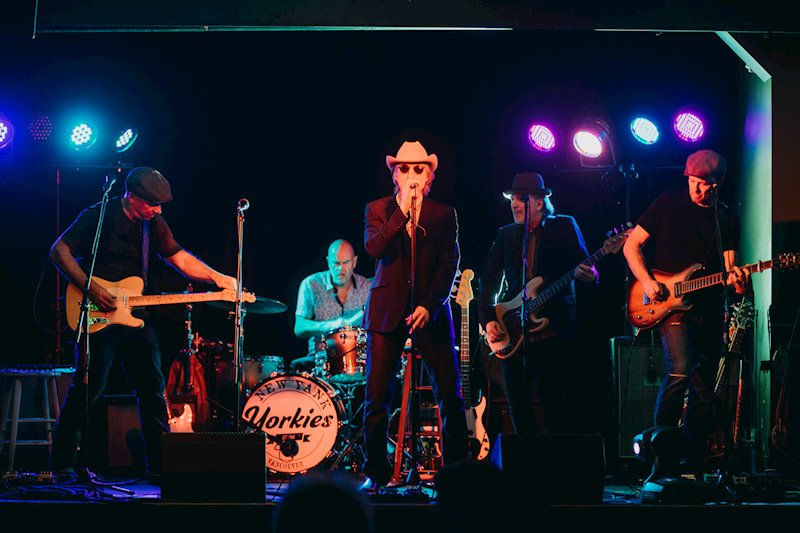 The new single from the tongue-twisting named band is a dose of love reality. With a taste of Little Feat influence, "Bring Back The Love," featuring vocals by Geoff Gibbons, is a fun, toe-tapping ode to what once was. Alas the future may not be bright, but when you take a listen to the bluesy track, you just might forget about ol' what's her name.
Smooth and sweet, "Bring Back The Love" is so easy to listen to, and not just once. It's definitely playlist material. Instruments working together overtime, it's a tasty stew simmered in years of talent and experience.
Post by Kath Galasso @KatsTheory
Social
New Yank Yorkies:
Pat Steward (Drums) Pat played drums on Bryan Adams' singles– Summer of 69 / One Night Love Affair / Kids Wanna Rock – Also on 2008 Album – Eleven /Toured in Bryan Adams' band on the Reckless Tour appeared Saturday Night Live – Live Aid – Amnesty international/ Jimmy Barnes – World tour with ZZ TOP – Drummer 26 years – Odds – Has recorded and toured with – Colin James – Jann Arden
John Ellis (Guitars – Yorkies Producer) (multi Awards for production and playing)/Toured as guitarist with – Bruce Cockburn – Ferron – Doc Walker – Jane Sibery – Barney Bentall – Ridley Bent/ Produced/Studio Musician – Jane Sibery – Barney Bentall – Ridley Bent – Ferron – Jeremy Fisher – Be Good Tanyas +100s more
Geoff Gibbons – (Vocals/guitar) Singer/Songwriter – released 7 solo Albums – Feature Film Scores – Songs for Film and TV – Music and Video Production
Jay Buettner (Guitar) Studio and Touring – Ian Tyson – George Canyon – Patricia Conroy – Aaron Pritchett – Chad Brownlee
Rob Becker (Bass) Studio and touring – Patricia Conroy – Colin James – Barney Bentall – Jim Byrnes