Nils Lofgren, 'Blue with Lou' – Review
Because the world needed it right now, Nils Lofgren has a new album titled Blue with Lou.
Fifty years burning down the road seems like long enough to have some perspective on your life and career. Enough time has passed to acknowledge the accomplishments, as well as the 'what I would do over' moments with a less biased view, but also travel that bridge to where you can pull up a lounge chair and breathe a sigh of contentment. Nils Lofgren by all rights should be relaxing in that lounge chair, but Blue with Lou clearly shows he has a few more miles to go.
Blue with Lou finishes the musical journey between Nils and Lou Reed that began in the 70s. There were 13 songs co-written by the musicians with Lou recording three and Nils recording five. When Lou died, Nils was determined those last five would be heard. After adding six more of his original songs and his redo of their co-written "City Lights," it was time to get to work.
Recording in the Lofgren home studio, Nils brought in longtime friends and co-conspirators Keven McCormick on bass, Andy Newmark on drums, and powerhouse backing vocalist Cindy Mizelle. Time was spent being a band before any recording was done, and the album itself has a natural, organic sound.
The album opens with a Lou/Nils song, "Attitude City." Lou Reed was the definition of attitude and his lyrics reflect that time when attitude could get you where you wanted to be. You can't help but smile at the Saturday Night Fever reference of Tony Manero (John Travolta) and the whole feeling of owning the street. These days the street has different owners and Nils take reflects something of the new world order. Newmark keeps it basic while Nils floats over and under the beat and Mizelle adds height and depth to the rocker.
"Give," another co-written song starts out with a little funk, gets rockin' then focuses on a good amount of guitar wizardry from Nils and strong bass line from McCormick. Lou's lyrics are both tongue in cheek and mindfully making a point.
"Talk Thru The Tears" offers a glimpse of a different edge to Reed. As a song of encouragement and perseverance, it's a universe away from the stark view of life we've come to expect.
"Pretty Soon" is the first of the solo written songs on Blue with Lou and it's also the first with an accompanying video release. The song is told from the perspective of a serviceman longing to be home and the woman praying that he makes it back. The marching beat and background vocals are reminiscent of another era and another war, but they also bring to mind how those days and those feelings are no different than the world today.
The Charlie Chaplin inspired "City Lights" has a much lighter feel than Reed's version featured on his 1979 album The Bells. With a wandering tenor sax line care of Branford Marsalis, the song of Chaplin's departure from the U.S. under the guise of a communist background, has a melancholy aspect as we look back on a type of comedy that has also departed.
The title song is a joyous romp in homage to Lou. The rhythm section keeps a constant tension as Nils playing turns fiery and his biting lyrics nail the essence of Reed. "World peace fantasies, like flirting with a corpse. Let's flay the evil down to dust, let kindness be a hammer force."
"Too Blue To Play" is a ballad that speaks of laying your cards on the table and building from there. Finding love among the ruins, clutching onto hope for the future. It reeks of honestly and reflection.
"Cut Him Up" has everything you could ask for in a Reed/Lofgren creation. It's dark and ominous and it, well it just rocks. Add Cindy Mizelle lending her magic to the mix and you get a standout track.
On Blue with Lou, Lofgren has several allusions to heroes here and gone. "Dear Heartbreaker," his tribute to Tom Petty is a powerful eulogy of remembrance and the joy his music will always bring.
The album ends with another eulogy, this one to the Lofgrens' dog Groucho. Anyone who has said goodbye to a loving pet will feel that sadness once again as Nils has put into words the pain we've all felt in watching them lose a hard fought battle. "And when it happened to you, you stayed fierce, you stayed strong, a warrior you walked tall. You inspired us all."
Fifty years is a long career in any line of work. One that takes creativity and faces constantly changing musical tastes is even more difficult. In Blue with Lou, Nils Lofgren has reached back to include songs written decades ago, freshened them up, and paired them with music and words reflecting his, and our world today. The end result is a seamless journey of well-crafted music with fifty years of rock heritage.
Nils Lofgren is currently on tour. Dates here
Review by Kath Galasso @KatsTheory
Nils Lofgren website
Blue with Lou Track Listing: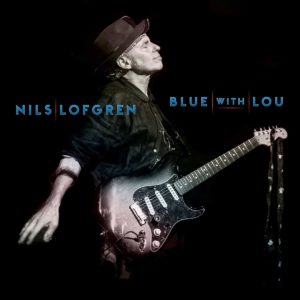 Attitude City
Give
Talk Thru the Tears
Pretty Soon
Rock or Not
City Lights
Blue with Lou
Don't Let Your Guard Down
Too Blue to Play
Cut Him Up
Dear Heartbreaker
Remember You