Rich Lerner and The Groove, "Jammin' with Juma"
Rich Lerner and The Groove can be considered a journeyman band and there ain't nothing wrong with that.
After nearly three decades of playing their own music and covering almost everyone else's, they're back to doing what they do best. Playing their own music and covering everyone else's. Their latest release Jammin' with Juma, is a mix of both with an added ingredient this time around. Legendary percussionist Juma Sultan, who woke up the Woodstock nation playing alongside Jimi Hendrix, provides a luscious dose of sound to the blue/rock base of The Groove.
The homage to Hendrix is evident right off as the band covers "Hey Baby." Musically it's a fine cover though the sultriness that Hendrix offered is replace by a matter-of-factness. Next up is "Seven Sunsets," a slide into a reggae inspired melody complete with lyrics evoking a Caribbean adventure.
The all-so familiar keys and cowbell intro of Eric Burdon's "Spill The Wine" immediately send you back to a time when…well never mind. The production is full and as with most of their tunes, the music speaks loudly and the vocals take a backseat. Does it matter? Not in the least. The artistry of the band is the real value and make no mistake, they are skilled musicians.
The Hendrix aura is back with "Ghosts Of Jimi." The line "We're all out here dancin' with the ghost of Jimi" pays tribute to Hendrix as Bob Seger gave reverence to Mr. Berry in "Old Time Rock & Roll" with the line "All of Chuck's children are out there playing his licks."
As the title might foretell, "Paranoia Blues" has a trippy vibe with a early Dylan-like vocal interpretation. "Am I Grooving You" is just a fun track with a taste of nostalgia and side of stalker. It's bound to get your toes tappin'.
The album ends with a rhythm heavy tune called "Sunset Dub." Jazz meets funk meets African beats. It adds a surreally different feel to the album.
Rich Lerner and The Groove have more licks under their belts than most bands ever will. "Jammin with Juma" continues with their strengths, fun jams and good playing. They're probably gonna be playing good music for another three decades.
Aside from being a good band, Rich Lerner and The Groove are also good people. They've helped the homeless in the Greensboro, South Carolina area for years with the Groove Jam Music Festival. Info on it is on their website, click here.
Review by Kath Galasso @KatsTheory
Rich Lerner and The Groove website
Rich Lerner and The Groove facebook
Track Listing: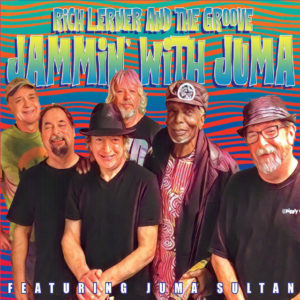 Hey Baby (New Rising Sun)
Seven Sunsets
Be Here Now
Spill The Wine
Ghosts Of Jimi
Paranoia Blues
Am I Grooving You
Be Here Now (Reprise)
Sunset Dub (Head Mix)