Ruby Topaz releases 'Rabbit Hole,' a thrilling, electrified journey full of ancient rock spirits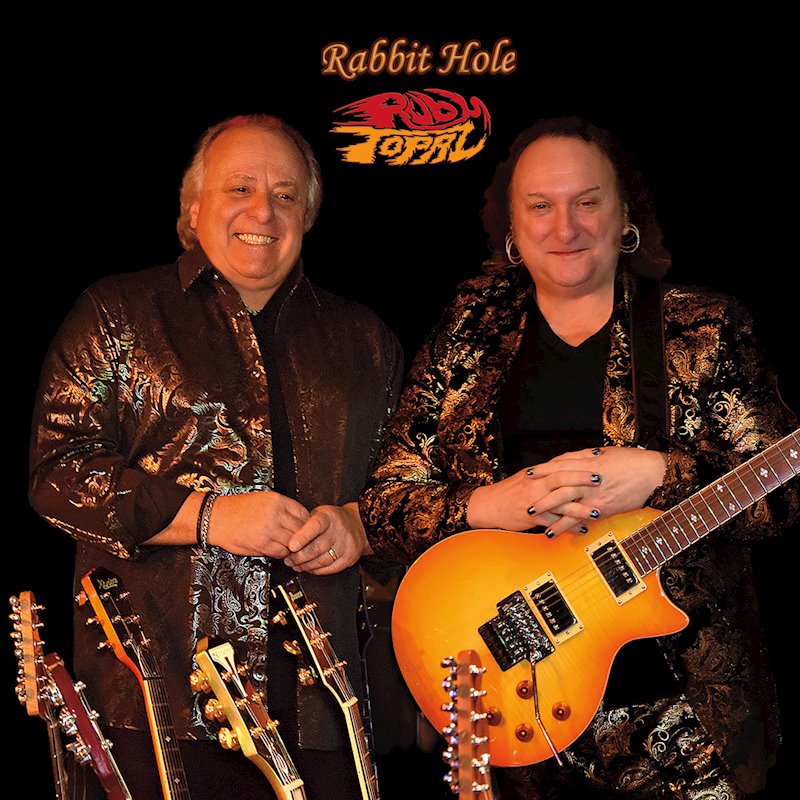 With influences as far-ranging as The Beatles, Queen, Led Zeppelin and the Mahavishnu Orchestra, virtuoso musician Mark Bram and his alter ego/band Ruby Topaz bring an encyclopedic knowledge of all things rock to their signature sound. More importantly, they exhibit sincerity and devotion to their musical lineage in their artistic approach. On new album "Rabbit Hole", Ruby Topaz invite the listener along for a thrilling, electrified journey featuring fresh conjuring's of ancient rock spirits.
When asked to describe his band, lead vocalist/guitarist/keyboardist Mark Bram said: 'We have the glam and theatrics of Cooper and Bowie, the sophisticated rock of Queen, the power and urgency of early Zeppelin with the melodic prowess of early Beatles'.
"Rabbit Hole" showcases an old school approach to musicianship, songwriting, showmanship and production – real people playing real instruments, innovating in every possible way. Mark Bram's trademark high-pitched vocal range was inspired by Robert Plant and Freddie Mercury. 'I got the power from Mercury and the highness from Plant.' Mark Bram also serves as a genuine modern guitar hero. Inspired by 60's and 70's guitar heroes like Jimmy Page, Brian May, Tony Iommi, Jeff Beck, Rick Derringer, Johnny Winter, Peter Frampton, Joe Walsh, Ronnie Montrose, Mick Ronson, Mark delivers tasteful pyrotechnics within the context of great songs.
Aside from being an astute music fanatic, Mark teaches Tai Chi Chuan. He studied for twelve years with Lee Wah Yook, president of The Eastern United States Kung Fu Federation, and when Sifu Lee passed away, Mark inherited the Lee Wah Yook Qi Quan system of Chinese martial arts. This discipline undoubtedly has an influence on his unique creative output.
Mark also records in his own studio, having gone on a relentless quest to secure as much authentic vintage gear used by artists like The Beatles as possible, and it certainly shows in the quality of his releases. Mark also designed the album cover, and it was skillfully drawn by his mother-in-law, Katrina Ginzburg, with help from his wife, Katya Ginzburg-Bram
Atmospheric, passionate and brimming with melody and syncopation, "Rabbit Hole" is a must-listen release for fans of rock music – 60's, 70's and beyond.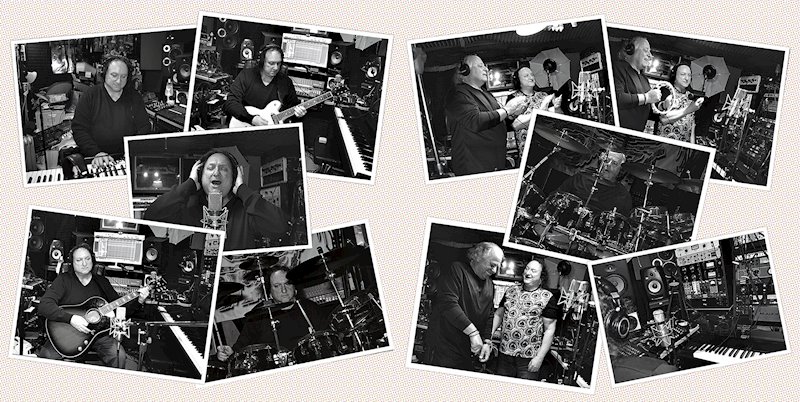 Websites:
Official Website: www.rubytopaz.com
Spotify
Bandcamp: https://rubytopaz.bandcamp.com/album/rabbit-hole
Youtube Channel: Rabbit Hole album link: https://youtube.com/playlist?list=OLAK5uy_nMqoycBqC2gpfDFfzqIrhAiS9fEgpxj0E ;
Ruby Topaz Channel: https://youtube.com/@MrRubytopaz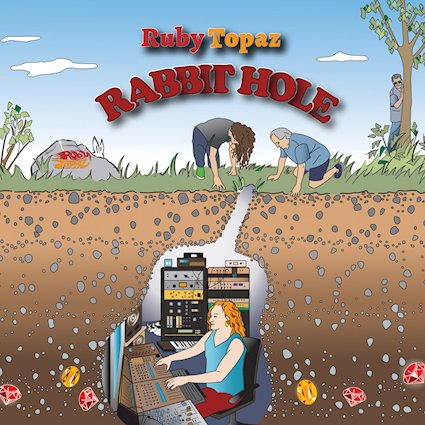 Artist Biography:
Exhibiting an interesting blend of pop, rock, glam, metal, blues and fusion, the music of Ruby Topaz was once described by a critic as 'subtly savage melodic metal.' The band's music varies so much that it is difficult to tack a label on their style. Their influences run the gamut from The Beatles, The Monkees, and Hermans Hermits to Queen, Led Zeppelin, The Who, Alice Cooper, David Bowie, Frank Zappa, Jeff Beck, and The Mahavishnu Orchestra.
The name came about when, during a band name change, someone asked Mark what his birthstone was. He replied: "Topaz". They went through a bunch of other birthstones to see what would pair well. When someone suggested Ruby, Mark said: "ooohh. Ruby Topaz…like Alice Cooper, except more glamorous". After a while, like The Alice Cooper Band, people started calling Mark "Ruby Topaz", like they began calling Vincent Furnier "Alice Cooper". Mark Bram, and his alter ego/band Ruby Topaz have a long and colorful history on the Rhode Island music scene. In the 80's, the Ruby Topaz single Why/ The Sack had some international success, and was played on the radio in England, France, Germany, Switzerland, and Belgium. They played their progressive brand of glam rock in Rhode Island as well as CBGB's , Gildersleeves, and L'Amour's in New York. Mark cowrote 'A Piece of Our Hearts' with Al Gomes of BIGNOISE RECORDS for Rhode Island Bandwagon, a project to feed the homeless in Rhode Island. Mark has produced five CDs, available on this website. In addition to recording and performing, Mark is a Grandmaster of the Lee Wah Yook Qi Quan system of internal Chinese martial arts, and teaches Yeung style Taijiquan in Providence, Rhode Island
When asked to describe his band, lead vocalist/guitarist/keyboardist Mark Bram said: 'We have the glam and theatrics of Cooper and Bowie, the sophisticated rock of Queen, the power and urgency of early Zeppelin with the melodic prowess of early Beatles'. Ruby Topaz has tasted success on both the national and international scenes for their 1982 independent single 'Why.'
The 45 was co-produced by local guru Phil Greene and Bram, was recorded at Soundtrack Studios in Massachusetts, and then was touched up at RI's Normandy Studios
Kerrang Magazine's David Sinclair wrote: 'They show a lot of promise and some genuine excitement on this record.' Soon after the article, the band's management was flooded with requests for the record. Later on they received letters from all around the world voicing support of the band.
In 1984 they cut a four-song demo at AAA Studios, which featured 'The Unicorn Song' and 'Keep Out.' This demo received a favorable review in Metal Forces Magazine. Ruby Topaz was ready for their first full-length album.
And with this positive write-up, several offers came rolling in. They accepted a deal with California based Azra Records in 1985. Their debut album, 'All Brand New', included most of their previously released tunes as well as several new cuts. The set was highlighted by 'D's Song,' 'Jealousy,' 'Get Your Face Off My Head' and the title track, which was mastered by George Marino (Queen, Billy Idol, Foreigner, etc.), and was all set to go in early 1986. Unfortunately, due to financial and marketing differences, the album was never released. Accepting that fate had dealt them a bad card, the band persisted in the face of misfortune.
About a year later, when the world was throwing support behind the Africa famine-relief funds, a musical project called Bandwagon was put together by Big NOISE's Al Gomes. The proceeds from the record went to help the homeless and hungry of Rhode Island. Having worked well together in the past, Gomes, who wrote the lyrics, approached Mark Bram to compose a pretty pop song to support his lyrics. Bram did so without hesitation. The result, 'A Piece of Our Hearts' was truly amazing and inspiring, as hundreds of RI musicians and public officials joined together to sing the song. The song received massive airplay and won numerous awards.
In 1987, Bram expanded his musical horizons by producing and arranging a demo for local R&B performer David Parham (Owens) in which Ruby Topaz played most of the music. After this session, the band took the opportunity to lay down the basic tracks for their next album. This effort yielded six songs, highlighted by 'Straight Ahead,' 'Magic Moments' and 'Blue Moon.'
In 1989, Ruby Topaz explored the realm of music video for the first time with the song 'Magic.Moments.' The video was both humorous and sexy, showing the band performing and having a good time, as they always did.
Later in 1989, Ruby Topaz laid down the final six tracks which comprise what was to be their second full length album, named 'Change of Face'. Songs that stand out include 'Your Love,' 'Change of Face' and 'Save Me.'
Although Ruby Topaz shines in the studio, the true power of this band is the live show. Many people who see Ruby Topaz perform are impressed by their musicianship and are intrigued by their showmanship. The music is very important to this band, but Bram feels the audience deserves more than 'a bunch of guys standing up there in jeans playing music.'
On occasion the band was labeled 'Rush-clones' because of Bram's vocal similarity to Rush vocalist Geddy Lee. 'Rush never influenced us. My voice is the way it is because, vocally, I was heavily into Robert Plant and Freddie Mercury (Queen),' said Bram. 'I got the power from Mercury and the highness from Plant.' Bram's high-pitched vocals, which have on occasion made dogs squirm, is very different from every other vocalist on the RI scene.
In addition to Bram, the early Ruby Topaz consisted of bassist Jimmy Zisiades and percussionist Jamie Rizzo. Bram and Zisiades had played together since 1974. Rizzo joined up in 1979 replacing original drummer Steve D' Andrea, who occasionally sat in and performed with the band.
From 1992 to 1994 Mark went through a very messy divorce and custody battle for his son (he was awarded physical custody in 1994). During that time the band drifted apart. Jimmy and Jamie, because of obligations to wife and kids, pursued careers that actually made money. For self-therapy during that time, he recorded instrumental music at night when he couldn't sleep, on a 4-track cassette recorder.
For money, to live and support himself, Mark teaches Tai Chi Chuan. He studied for twelve years with Lee Wah Yook, president of The Eastern United States Kung Fu Federation, and when Sifu Lee passed away, Mark inherited the Lee Wah Yook Qi Quan system of Chinese martial arts. One of Mark's students, who was an exporter, heard the tapes, and convinced Mark that he could sell a toned down new age version overseas. He said the tie-in to Tai Chi Chuan was a big selling point (although Mark teaches it as a very deadly martial art and a way of life, not as a new age 'old men in the park' form).
Since Mark had been using a polished agate pick (agate is a crystal) for almost twenty years, he named the album 'Crystal Pick', as a kind of a new age joke. It was a total improvisation from beginning to end, painting pictures with sound and then soloing over it, not caring where it went. When the exporter disappeared, another one of his students released the album. URI Radio personality Russell Redmond discovered Crystal Pick among some tapes from defunct Newport jazz radio station WOTB. Saying that it was some of the most amazing guitar playing he'd ever heard, he tracked Mark down over the internet, and featured him in an hour long interview on his show 'The Best Jazz You've Never Heard'.
A short time after that, Mark was approached by a producer to do a solo album in which Mark would play all the instruments. They recorded three songs, including 'Knife In My Back' for the Big NOISE collection 'Digital Mystery Tour,' which was distributed globally. Then the producer went through some personal changes, and that was the end of that. Determined to finish the project Mark went into debt and purchased a digital 8-track recorder and with the help of Steve D'Andrea (the drummer from his live band who, coincidentally, was the original drummer of the pre-recording RUBY TOPAZ) he finished the project, which became the out of print 'Mark Bram/Ruby Topaz'.
At the same time, Mark's 1982 45 rpm single, 'Why/The Sack', that was popular in England, France, Belgium Germany, and Switzerland, had been selling for $50 in collectors mags, as well as bootlegs of 'All Brand New,' which were selling for $100…without a cover !
In 1998, Mark decided to redo Crystal Pick the way it was originally intended. The result is his newest jazz/fusion release, 'Soundtrack of Life: Crystal Pick II', a giant collage of sounds and genres, an unadulterated, musically and technically fascinating CD.
In 2000, Mark put together a 16 track digital studio. He decided that he wanted to do justice to some of the songs on Mark Bram/Ruby Topaz and re-recorded most of the tracks, as well as some new version, including a remake of 1982s The Sack (the b side of Why) done as a Led Zeppelin/Janis Joplin homage. Mark took Mark Bram/Ruby Topaz off the market and replaced it with Mark Bram/Ruby Topaz Again.
2002 and 2003 saw Ruby Topaz gain a following at Rhode Island School of Design (a very prestigious, well known Art and Design college) with the 2004 graduating class.
What a lot of record companies don't realize is that there are a lot of young people out there who are listening to Queen, Led Zeppelin, David Bowie and Alice Cooper. Mark was told by the RISD students that they felt like there wasn't any good music around anymore. No musicianship. They felt that Ruby Topaz was a throw back to a time when musicianship and showmanship mattered. "Ruby Topaz: New, Original Music From The Greatest Era Of Rock"
In 2004 Mark, and his soon to be wife, bought a house and he decided to redo the studio. All through 2005 and part of 2006 Mark went on a quest for vintage style gear to record the next CD. This CD was to include many new songs, as well as the songs from "Mark Bram/Ruby Topaz" that never made it on "Mark Bram/Ruby Topaz Again. Steve and Mark started working on the first new song, "Thanks for Nothing" and then Mark totally redid the studio…again. Chris Hallam, who was in Ruby Topaz in the mid 70s, rejoined the live band, on bass, and that band did it's first gig making an appearance at Mark's wedding in 2007. They did their first full show in 2009 at AS220.
The new studio has loads of vintage clones with NOS parts ( transformers and tubes for mics and preamps) and tons of vintage emulation plugins. Things were going great. A few songs were recorded and mastered at Abbey Road Studios in London…and then Mark lost his voice. He went to a specialist in Boston and was diagnosed with Acid Reflux and had damaged his vocal cords. He went for rehab and, after more than a year, he got his voice back. Mark updated all his software and then everything in the studio started crashing. The three major companies that developed the software blamed the "other guy." After over (yet another) year, most everything was resolved and recording is was resumed.
As of November 2017, Chris and Mark parted ways. Stephen Fassbender, from Noll Guitars, is now the official live bass player. Definitely one of the best bass players that the band has ever had. He's an amazing, intuitive player. He can take anything you throw at him.
As of 2022:
All the recording culminated to form 2022's Rabbit Hole, which not only refers to the title track, about the evolution of Mark and Katya's relationship (from meeting to marriage ), but also Mark's obsession with making these recordings sound right. It was mastered by Christian Wright at Abbey Road Studios in London.
Chris Hallam and Mark reconnected during the pandemic and is still an "honorary" member of the band and is there to fill in, which is why he's listed in "Live Band Two" on the album and is depicted hiding behind a tree on the album cover.