Southside Johnny and the Asbury Jukes @ Newton Theatre
On an unseasonably warm November night in northwest New Jersey, the outside temperature was nothing compared to the fire being stoked onstage by Southside Johnny and the Asbury Jukes. The wonderfully intimate Newton Theatre played host to The Jukes, and Johnny and the boys took the invitation to heart, performing a solid night of old songs and new, mixed in with the usual blend of fun, professionalism, and Jersey swagger.
If you've never seen Southside & the Jukes, what you can expect is to watch one of the best showmen in rock front a band that is always at the top of their game, and they do it every time. Every damn time.
The band opened with "All I Needed Was You," off their '91 release, Better Days. If it was a statement they were making to the audience, it was well received. Up next was some fun from their new album Soul Time, and a little "Spinning." Classic soul with a delicious side of horns. Just outstanding. It didn't take long to get the memories going as the band offered a triple dip of classic Jukes with "I Played The Fool,"  "Walk Away Renee" and a pumped up version of "This Time It's For Real."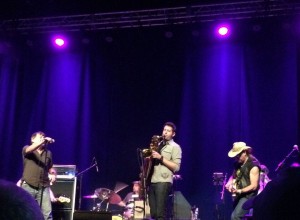 No Jukes show can go very far without a few stories. This one included the tale of Johnny's first time surfing. It was also apparently, his last time surfing. "Love On The Wrong Side Of Town" began low and sorrowful but quickly kicked into gear, punctuated by the sweet sax of Brandon Wright. As with many of the songs throughout the night, "Broke Down Piece Of Man" had a generous amount of vocal support from Jeff Kazee, who is so much more than keys man and backing vocalist. He is indeed, the perfect foil for Johnny Lyon.
Another taste off of Soul Time came with "Ain't Nobody's Bizness," which delivered some sweet B3, big trombone from Neal Pawley, and a little blues harp from Johnny. The huge band intro into "Talk To Me" demanded attention and it was certainly worthy of every beat of it. Having thrown out the set list earlier in the night, Southside was open to requests. And even though it was a 70 degree day, he obliged with "On The Beach," a song best served in winter when thoughts of the summer are a much needed distraction.
If you weren't familiar with the new album, as they dipped back into Soul Time for "All I Can Do," you realize this isn't any rehash of old melodies, but rather it's a new and fresh take on that great era of music.
After a little more nostalgia by way of "Without Love," Johnny took a breather and let Mr. Kazee take over the lead for a little 50s rock "High School Confidential." The rolling thunder intro of "Trapped Again" brought the crowd up to another level. If your feet ain't tappin' through "Trapped Again," baby you're dead.
The encore began with a very soft and sweet cover of "Up On The Roof" which included the vocal support of the entire audience. The Jukes then ramped it up with "I Don't Want To Go Home," and closed the night with "We're Having A Party."
We certainly were.
There are bands that after seeing them over a period of years, never mind decades, you hit an off night. Well, Southside Johnny and the Asbury Jukes ain't one of them bands. The Jukes always show up and always do the dirty work. Some of the notes may not reach as high or have the same clarity as twenty or thirty years ago, but that's not what this band is about. It's about heart and soul and giving their fans the best they can.
And they do. Every damn time.
Opening for Southside Johnny and the Asbury Jukes was Geoff Doubleday, a local singer-songwriter. He and Tom King on bass were warmly received by the audience and deservedly so. They performed a lively and enjoyable set, offering perfect support for the Jukes.
Review by Kath Galasso @KatsTheory
Southside Johnny and the Asbury Jukes Website
Set List:
All I Needed Was You
Spinning
I Played The Fool
Walk Away Renee
This Time It's For Real
Love On The Wrong Side Of Town/Up On The Roof
 Broke Down Piece Of Man/This Is A Man's World
Ain't Nobody's Bizness
Talk To Me
On The Beach
All I Can Do
Without Love
High School Confidential (Jeff Kazee)
Hearts Of Stone
Trapped Again
Fever
Looking For A Good Time
Encore:
Up On The Roof
I Don't Want To Go Home
We're Having A Party