The Grand Undoing Releasing 'Sparks Rain Down from the Lights of Love'
According to his bio, Seth Goodman has two passions in life. The first is "creating post-rock Americana confronting alienation and mortality." The second one is drinking sparkling wine. After listening to Sparks Rain Down from the Lights of Love, his third album recorded under the name The Grand Undoing, the latter is the perfect complement to the former.
Due to release September 30th on Secret Candy Rock Records, Sparks Rain Down features ten songs that are anything but predictable. Opening with "Sing Yourself Home," the rock-pop sound is enhanced with a strings background and vocals that remind you a bit of Elvis Costello, but then they morph into a Bowie-esque sound with a full production backup.
"Living In Amber" is a beautifully arranged song of reflection and trying to look ahead. "Living in amber, I can't seem to find my way through." A sweet interlude of melody entwined with flutes and strings, just a lovely song.
"Let The Big Ball Roll," takes a bit of a garage band sound, pulls in a little punk, and maybe an Irish drinking song and rolls it all together in a big old sing-a-long.
The first release from the album "Most Of All We Just Go Around," is a perfect metaphor for most relationships and basically life in general. "We get high, we get low, but most of all we just go around." It's well-paced, catchy and fun.
"Lady In Gray," is a melancholy ballad full of mournful piano and sad violins. Goodman's vocal is somber, almost pleading, but it's the music and instrumentation that rightfully dominates.
Sparks Rain Down from the Lights of Love walks an interesting road. It's one where you can trace a rock sound while letting it meander around some psychedelic turns and at times, feel it floating on a classical background. There is whole bunch of stuff going on within each song, so one listen won't tell you all you need to know. The feel is a little of this and a little of that, kinda like what life is like. Only this comes with vocals and a melody. And if you're lucky, a little sparkling wine.
Review by Kath Galasso @KatsTheory
Track Listing: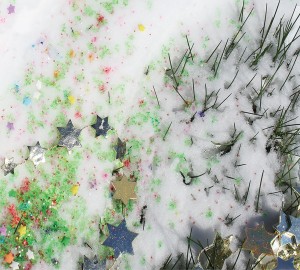 Sing Yourself Home
Key Biscayne
Living In Amber
Let The Big Ball Go
Falling From A Plane
Most Of All We Just Go Around
Lady In Gray
Sparks Rain Down From The Lights Of Love
The Winter
Anyway The Wind