Tom Petty LIVE AT THE FILLMORE (1997)
CELEBRATING THE 26TH ANNIVERSARY OF TOM PETTY AND THE HEARTBREAKERS' FILLMORE RESIDENCY TOM PETTY AND THE HEARTBREAKERS: LIVE AT THE FILLMORE (1997) RELEASED TO CRITICAL ACCLAIM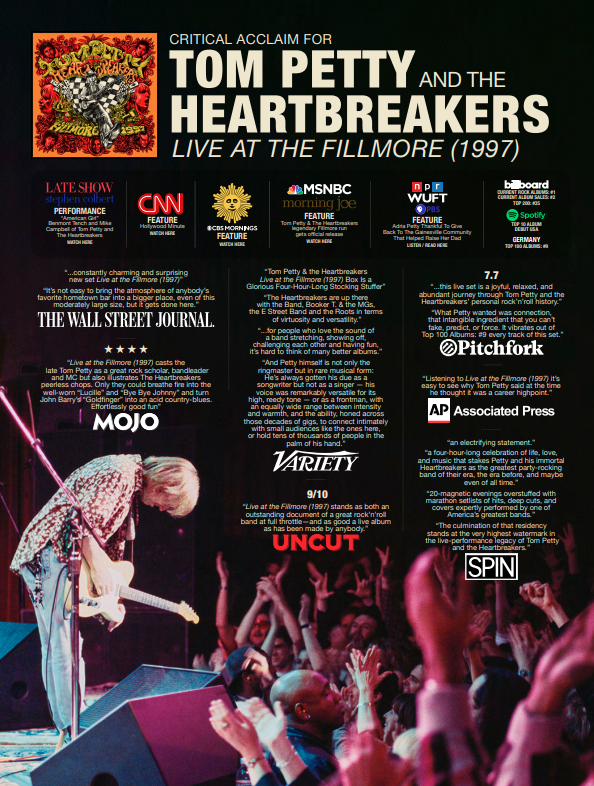 January 24, 2023—Today, The Petty Estate unveils Tom Petty and The Heartbreakers—The Fillmore House Band—1997 (Short Film Part 2) around the 26th anniversary of Tom Petty and The Heartbreakers' legendary residency at the Fillmore.
The 11-minute short film, directed by Alison Tavel, features previously unreleased, never-before-seen footage from the Petty estate vaults, accompanied by interviews with The Heartbreakers filmed at the famed Clubhouse.
In addition to the incredible performance footage, the film captures the excitement and camaraderie around the shows, giving fans yet another glimpse into the ambitious multi-night stint at the San Francisco venue, described by Petty as "the highpoint of our time together as a group." The captivating 20-show run created a unique bond between the band and their fans.
Tom Petty and The Heartbreakers: Live at the Fillmore (1997) is Tom Petty and The Heartbreakers' first live record in 13 years, and across the 58 songs included in its deluxe editions, furthers their reputation as one of America's greatest rock and roll bands, with critical praise abounding.
For information visit: www.tompetty.com
For official Tom Petty merchandise visit: https://store.tompetty.com