Vancouver's Black Dog String Quartet showcase a hybrid of stylistic and thematic approaches on new album "A Thousand Times Brighter"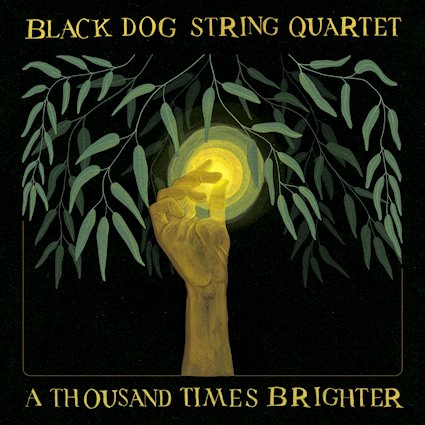 Vancouver's Black Dog String Quartet showcase a hybrid of stylistic and thematic approaches rich with meaning on 'deeply personal' new album "A Thousand Times Brighter", out April 28, 2023 on streaming platforms. This discerning collection of nine new compositions finds the seasoned musicians diving into a rich reservoir of shared dreams and collective wisdom. Musically drawing from a web of connected disciplines ranging from contemporary classical, folk and fiddle music to chamber pop, "A Thousand Times Brighter" distills Black Dog String Quartet's powerful artistic vision into a cohesive, emotion-packed experience – yearning, somber, graceful and transcendent. 
"These songs present the quartet in an unique role: the quartet as a band, forming the energetic core of the music, with support on some tracks from upright bass, drums, and brass instruments. The composition reflects our collective interests in contemporary composition, fiddle, folk, and pop music. Recognizable pop forms are mixed with extended instrumental sections, unexpected textures, and extended string techniques. There are stylistic elements borrowed from fiddle music, contemporary classical, Romantic-period art song (especially German Lieder), contemporary folk, and Balinese gamelan.

The album's primary thematic material is ecology and the natural world. The songs explore specific western Canadian environments such as the interior plateau, the coastal rainforest, and the prairies, as well as our human relationship with these places. Woven through this imagery is a narrative of deeply personal reflections on mental health, intimacy, and dreams."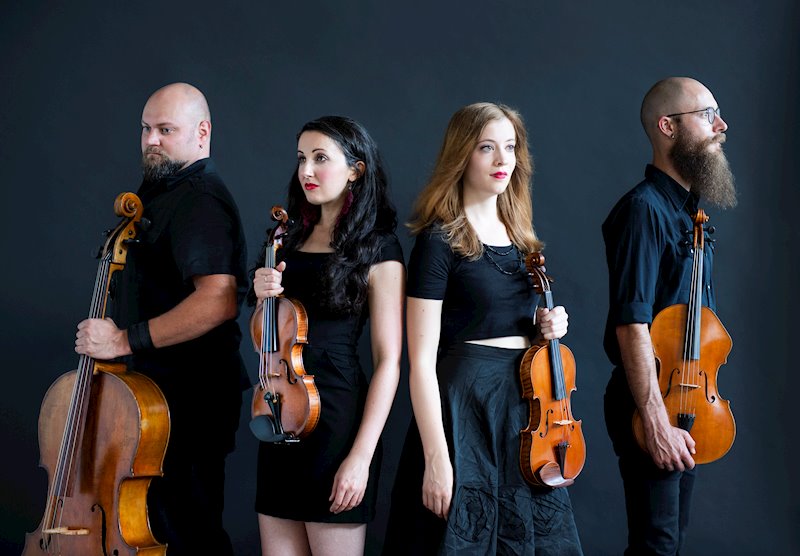 During the production of "A Thousand Times Brighter", Black Dog String Quartet experienced a significant tragedy when their producer/engineer, Olivia Quan, passed away suddenly and unexpectedly of natural causes at just 25 years old. She had nearly finished mixing the album at the time – the final adjustments were done by her colleague, Tom Dobrzanski.
"Olivia was a young audio engineering phenom, having already worked on multiple Juno-nominated recordings, and the BDSQ considered her a friend. We had specifically selected her to work on this project with us after having worked with her as a session quartet on multiple other artists' albums."
livia's colleagues and family set up the Olivia Quan Award for Audio Excellence through Music BC in her memory. The remaining fees we owed her at the time of her passing were donated to this scholarship fund for promising young engineers. "A Thousand Times Brighter" is dedicated to Olivia and the olive tree imagery on the cover is a nod to her (as the name Olivia means 'olive tree').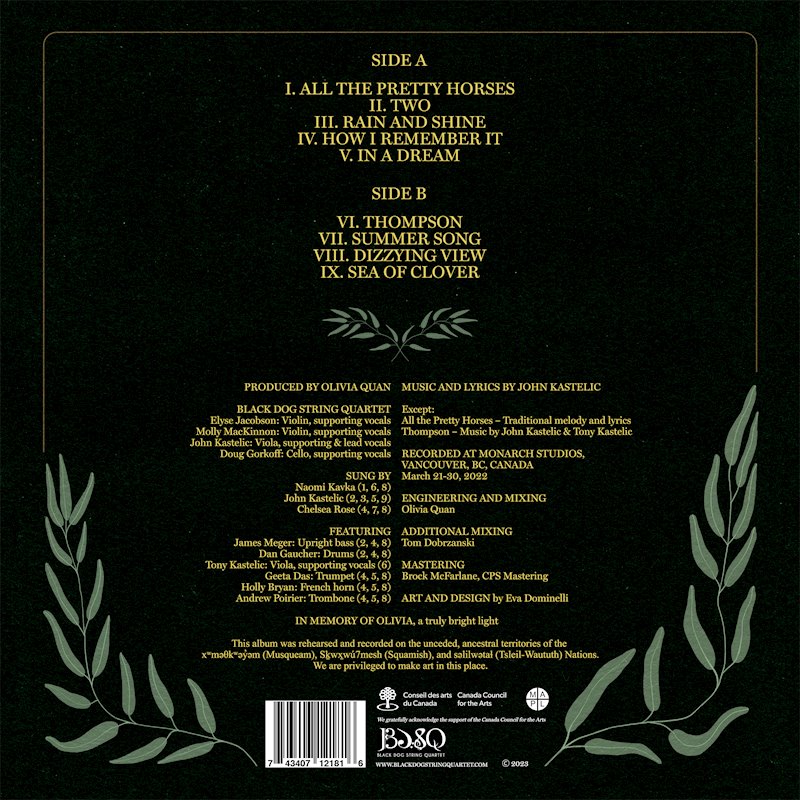 Websites:
Official Website: blackdogstringquartet.com
Facebook: facebook.com/blackdogstringquartet
Instagram: instagram.com/blackdogquartet
Youtube Channel: @blackdogstringquartet9867
Artist Contact Email: elysetheviolinist@gmail.com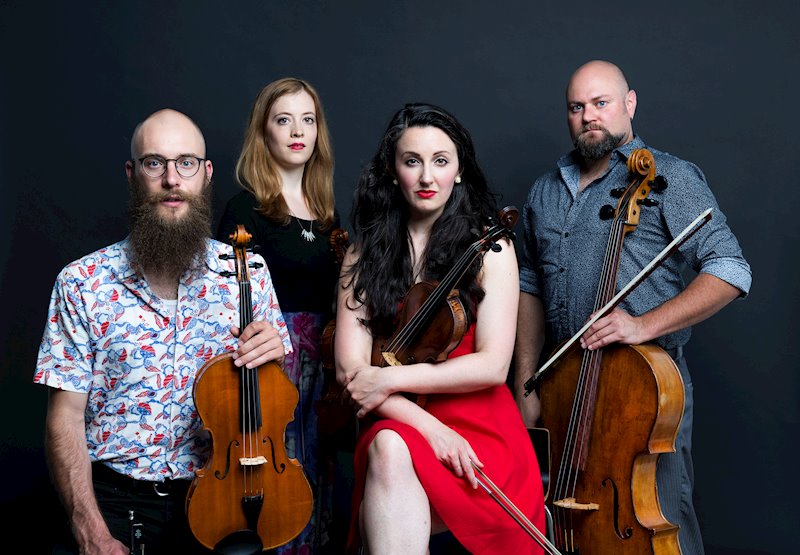 Artist Biography:
Formed in 2007, the Black Dog String Quartet is made up of some of Vancouver's finest musicians. The group has appeared on the recordings of artists such as 54-40, Marianas Trench, Bleeding Through, and many others. Individual members have performed live on stage with some of the world's top acts, including Rod Stewart, Kanye West, Sting, Michael Buble, Mariah Carey, The Trans-Siberian Orchestra, and Video Games Live.
The quartet's excellent playing and reputation have landed them in recording studios with producers like Warne Livesey (Midnight Oil, The Matthew Good Band), Dave Genn (54-40), and Devin Townsend (Strapping Young Lad). Recent performance highlights include opening for Sarah McLachlan at the SPC Global Conference, a concert with soprano Measha Brueggergosman at the Chan Centre, and an appearance at the Shambhala Music Festival.
Consistently delivering performances with "conviction and imaginative sensitivity" (Vancouver Classical Music), the Black Dog String Quartet appears regularly at various public and private events, including classical chamber concerts, weddings, and corporate functions, as well as on film and television scores and other studio recordings. They've been a featured ensemble at the Quartetti Festival of String Quartets, Sonic Boom Festival of New Music, and Classical Revolution Vancouver, and all four members play regularly with multiple symphony orchestras.
Their solid classical background, high skill level, and collective open-mindedness set the Black Dog String Quartet apart as one of Vancouver's most unique and versatile ensembles. A Thousand Times Brighter is their first album of their own original material. 
Musician Names/Instruments: Elyse Jacobson, violin | Molly MacKinnon, violin | John Kastelic, viola | Doug Gorkoff, cello (with John Kastelic, Chelsea Rose, and Naomi Kavka on lead vocals) 
Producer Name(s): Olivia Quan