Strange Culprits Debut Release Is Not Strange At All
Once upon a time, somewhere in the Bay area, Jason Buckingham needed to find a bass player for his new band. As fate would have it, his multi-instrumentalist wife Sami felt the need to learn to play bass. Funny how shit works out sometimes. Then along came Tony to play drums and the three became known as Strange Culprits.
Strange Culprits is somewhere between rock, post-punk and alternative, with enough grit to have come out of someone's garage. Their nine song debut album is set for a June 8th release.
The album opens with "Moonlight" and it opens with a boom. Actually more than one. Heavy on the bass drum intro, the song then makes you focus on Jason Buckingham's vocals. Deep and throaty, they have an intriguing quality. A declarative love song, the title reflects how good things always happen after dark. Sometimes simple is best and "Moonlight" is effortless and nicely done.
"When You're Away" takes a nice little rockin' melody with a defining bass line and adds some classic rock vocals where phrasing plays a strong role. "Fleeting Moments" is all heartache and anxiety. Melodically tense, the singer cries out in despair. "Rootless" picks up the tempo and the mood. At 2:38, it's a quick walk around the block adding a spring to your step.
"Mija" is an emotional declaration of love where the instruments give a wide path to the pleading vocals. The bluesy guitar solo adds a sweet unexpected touch. Slow and easy, "Bless The Harlot" is a tale of self-examination and judgement. Buckingham sings this with strength and clarity, giving the weight the song deserves.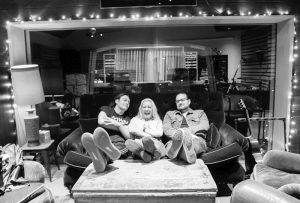 Strange Culprits ends with "Concrete In The Rain," a song that production-wise, is unlike anything else on the album. It begins with a theatrical feel, synths, strings, piano bounce off the wall and keep a vigilant watch over the melody. It casts a prog feel over the song and gives you another indication that Strange Culprits won't be defined by any specific genre.
As a debut album it's better than decent. Maybe another set of ears in the production would have made it a cleaner project, but overall it's a good listen.
Review by Kath Galasso @KatsTheory
Strange Culprits website
Strange Culprits Facebook
Band Members:
Jason Buckingham: Vocals and Guitar
Samantha Buckingham: Bass
Tony Loftin: Drums
Track Listing:
Moonlight
When You're Away
Fleeting Moments
Rootless
Let's
Mija
Bless The Harlot
Fades Into
Concrete In The Rain